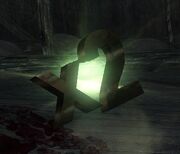 Double Points
is a canon Power-Up in every Zombies map. It is one of the original 4 found in Nacht der Untoten.
Double Points is obtained how any other Power-Up can be obtained, a zombie "dropping it" after being killed. This Power-Up lasts for 30 seconds and is represented by an X2. The Power-Up gives you twice the points you would recieve by doing something normally such as repairing a baracade. While doing so will give you only 10 points without it you will recieve 20 points with it.
Taking two Double Points on Nacht der Untoten and Shi No Numa results in the points being quadrupled.