The MP40 is a German sub-machine gun featured in every Call of Duty: World at War map and a few Call of Duty: Black Ops maps.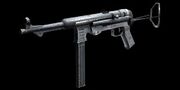 The MP40 can be obtained via the wall (only on Verruckt), the Mystery Box, and Console Commands. It has a relatively good rate of fire, moderate to little recoil, and moderate to high power. It is efficient around the mid rounds, and can be used even further if going for headshots.
Pack-a-Punched
Edit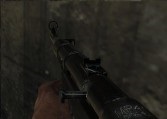 The Pack-a-Punched MP40 is known as "The Afterburner," possessing a 64 round magazine with 384 held ammunition. It still retains its traits, like most other Pack-a-Punched weapons, and can be used even further. In Black Ops, everything is still the same, even the name.